Our Top 9 Favorite Alaska Excursions
October 12, 2020 / updated September 1, 2021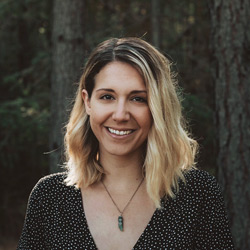 Planning your Alaska excursions for the short time you have in each port can be overwhelming. With so many options, how do you know which to choose? This list of our 9 favorites includes Alaska glacier tours, wildlife viewing, scenic explorations and more, and aims to provide you with a solid starting point to plan your itinerary. Each adventure here offers something unique and special while making sure you don't miss out on the town's most popular sights and experiences. So sit back, read on, and get excited about your upcoming Alaskan vacation!
---
Port: Juneau
Tour Length: 4 hours
Besides glacier tours, one of the most popular Juneau excursions is whale watching. Which is why there are whale watching tours departing nearly every hour in Juneau on jet boats and catamarans that fit 28-48 passengers. Why not create an extra-special day for your family by opting for the Private Whale Watching Tour? Your personal boat is equipped with binoculars, refreshments and snacks, and top-notch naturalist guides. You'll even have the opportunity to choose your route and secluded island to explore during your three-hours on the water searching for humpbacks, orcas, eagles, and more. Whale watching in Juneau doesn't get better than this!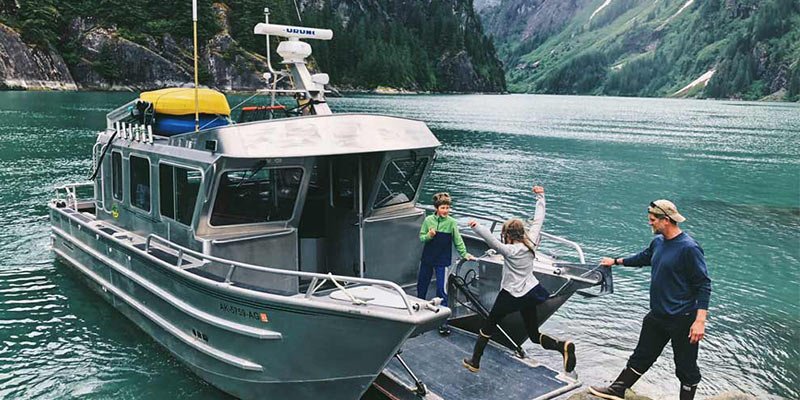 At your secluded island stop, check out the local flora & fauna and enjoy a fun rope swing before heading back out for more whale watching!
What guests are saying:
We had a great time with Renee and Winston on our search for humpback whales, [their] experience and knowledge of all the local whales was amazing. We were a group of 6 and had a fabulous time on their nice boat with everything we needed, we also enjoyed the stop on the island to explore for a bit. You won't regret this tour!
-Vannessa Osbourn
Learn more and book your Private Whale Watching adventure for your Juneau port date!
---
Port: Juneau
Tour Length: 6 ½ hours
When people recount the best part of their Alaskan cruise, it usually involves a glacier tour and it's hard to beat the experience you get on the Mendenhall Glacier Paddle & Trek. This is a very special excursion and my personal favorite of the Juneau Alaska glacier tours. After a strong paddle on the gorgeous lake with views of Nugget Falls and the face of Mendenhall Glacier, you'll be awe-struck at the different features you'll explore while walking on the ancient ice. The expert guides are excited to teach you all about Mendenhall glacier and ensure you stay safe while enjoying the ultimate Juneau glacier adventure.
Switch out the paddling portion for a hike around the lake on the Mendenhall Glacier Trek, or save your energy for your time on the glacier with the Helicopter Glacier Trek! You can't go wrong with any of these glacier excursions!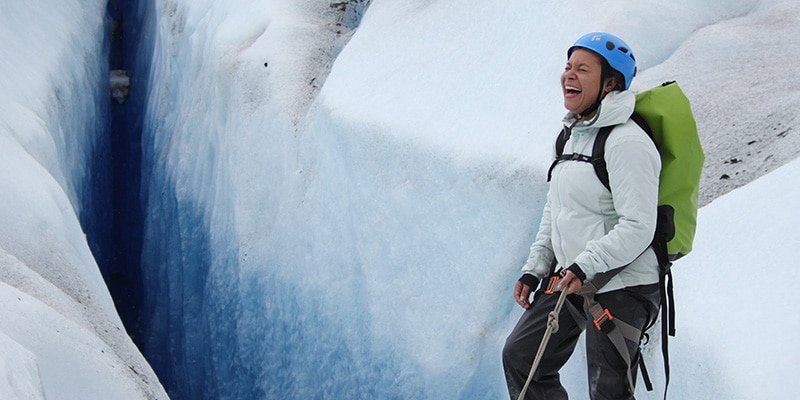 All gear and necessities are provided for you, so you can simply enjoy the adventure of exploring Mendenhall Glacier!
What guests are saying:
The whole experience was top notch! The paddle over to the glacier is BEAUTIFUL with a waterfall and beautiful scenery everywhere you look. The hike on the glacier was UNREAL. Such an incredible, surreal, fabulous, experience! This company goes above and beyond for their clients. Great healthy snacks, awesome staff, excellent gear, and most importantly – safety. They are the only company that expects the best and prepares for the worst with safety gear. You don't want to go with anyone else! Well worth the money!
-Hayley Reynolds
Learn more and reserve your spot on the Mendenhall Glacier Paddle & Trek for your Juneau port date!
---
Port: Juneau
Tour Length: 1 hour
The massive Juneau Icefield can only be truly explored by taking to the skies. Your search for Alaska excursions that will get you breathtaking glacier views ends here! You'll explore five glaciers in these 6 and 10-passenger seaplanes, making it one of the best glacier tours for those looking to see the most in the shortest time. Your pilot will provide a great narration during your 40-minute flight, leaving you in awe of nature's beauty before the seaplane makes an exhilarating water landing back in downtown Juneau.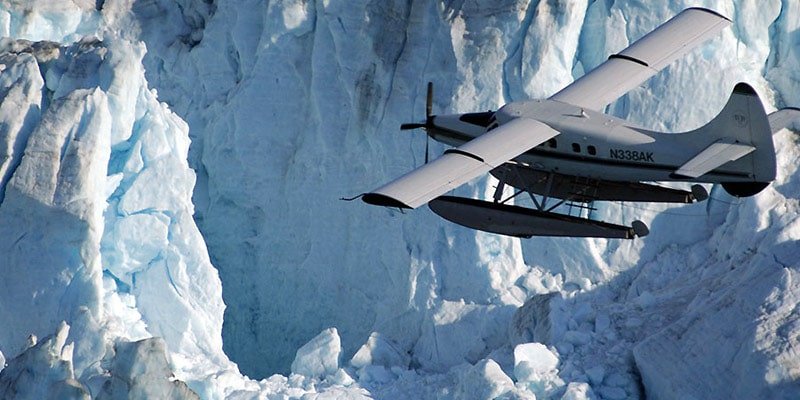 Everyone has a window seat, so don't forget your camera to capture these stunning views!
What guests are saying:
Amazing views and excellent narration by our pilot, Dan. Totally worth it, to see these wonders of nature -glaciers- before they go extinct!
-Rachael W.
Learn more and reserve your spot on the 5 Glacier Seaplane Exploration for your Juneau port date!
---
Port: Skagway
Tour Length: 7 hours
Explore the mesmerizing, raw wilderness of Skagway and Canada's Yukon Territory on this delightful 7-hour journey along the historic Klondike Highway, covering 67-miles with your personal guide. Paralleling the Yukon railroad for most of the way, the benefit of this private tour compared to the non-private Yukon Discovery Tour is that you can stop wherever you'd like and explore the beautiful sights of the White Pass Summit, Yukon Suspension Bridge, Carcross Desert, Emerald Lake, and so much more! Your personal guide is extremely knowledgeable about the rich and fascinating history of Skagway and Yukon, and they are excited to share it with you. This is definitely one of the best Alaska excursions for history buffs and nature lovers!
This tour is very customizable, and some guests like to pair it with dogsledding!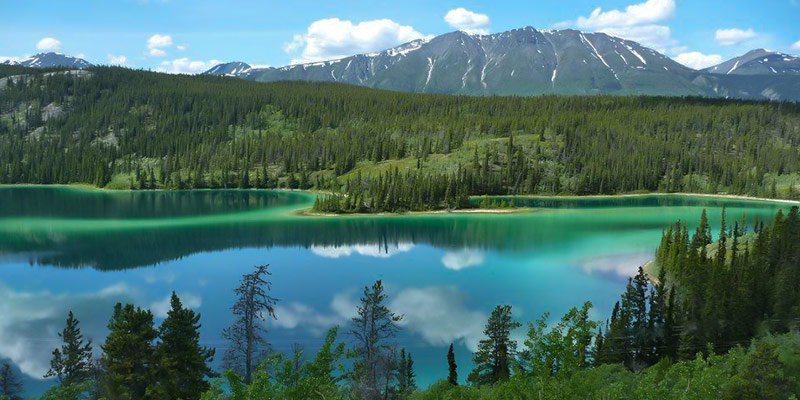 Gorgeous Emerald Lake! Make sure your camera batteries are charged, you'll want to take photos of the many stunning sights and wildlife that you're likely to see!
What guests are saying:
Our tour guide, Lisa was AMAZING! We had such a lovely trip into Yukon Territory with her. Incredibly knowledgeable and friendly, we had a great time with her seeing the sights of Skagway and the Yukon. She stopped at all of the most beautiful spots while keeping us on time and on track. She even provided us with excellent recommendations for our lunch stop and for continuing on in Skagway after the tour. We cannot recommend her or this tour enough!
-Anna Tucker
Learn more and book your Private Emerald Lake tour for your Skagway port date!
---
Port: Skagway
Tour Length: 2 hours
One of the top excursions that consistently receives rave reviews, and it's no surprise to us! Discover Skagway's hidden gem, Jewell Gardens, on this unique and family-friendly experience. The hands-on glassblowing class is both informative and fun, and they even ship the custom piece you make back to your house! Before or after your tour, explore the beautiful three-acre organic garden, which is filled with delightful flowers and glass art, along with produce that they harvest for their delicious on-sight restaurant. With a tour length of two-hours, you'll be left with plenty of time to explore the rest of Skagway or go on another adventure. We suggest pairing with a trip to the White Pass Summit or the Glacier Discovery Helicopter Tour!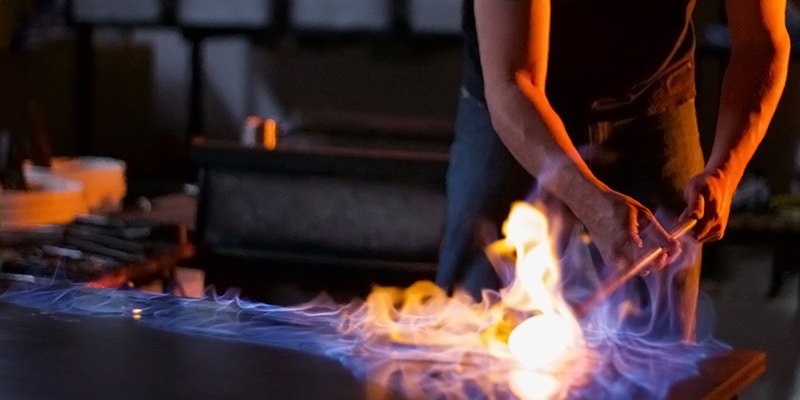 How much you participate is up to you! For guests wanting to accompany others in their group and just watch or explore the grounds, they can sign up with the "observer" rate!
What guests are saying:
I have always enjoyed watching glass blowing artists, and I was excited to make my own ornament. Wasn't sure how much I was going to get to do, but this was very much a hands on experience. I love my ornament and all the staff were nice and helpful. Plus, getting to walk around the gardens at the end was great. This was a wonderful experience.
-Elaine Olson
Learn more and book your Glassblowing Experience for your Skagway port date!
---
Port: Skagway
Tour Length: 5 ½ hours
One of the best tours for those looking to get away from the downtown crowds and into Skagway's beautiful and historical backcountry! This tour combines the Chilkoot Trail Hike & Float with a 5-mile bike ride through the Taiya River Valley and the ghost town of Dyea! There's no shortage of adventure on this excursion as you hike, ride, and float your way through gorgeous meadows, rivers, and rainforest. Suitable for novices and experts alike, this is a great experience for the whole family. The fun and knowledgeable guides are eager to show you the beauty that Skagway offers and teach you about the fascinating history of the land.
Interested in more biking adventures in Skagway? Check out the White Pass Train & Bike tour!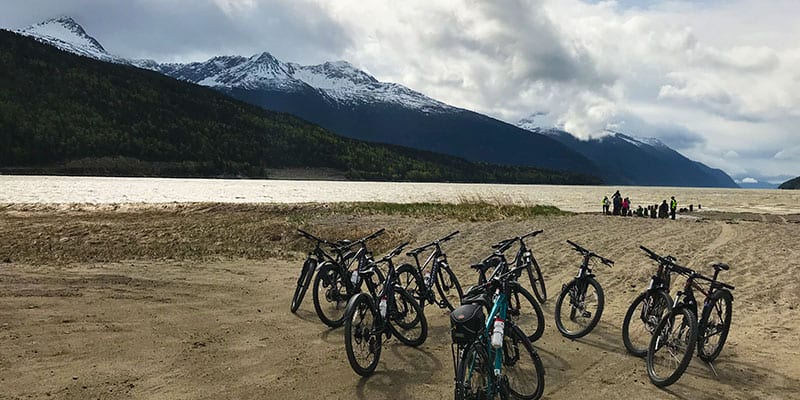 Enjoy a fun-filled day in Skagway's beautiful outdoors! Bike through the rainforest, hike on the historic Chilkoot Trail, and float down the Taiya River!
What guests are saying:
This is a great combination of activities to see the area, get some exercise and learn about Alaska. The cycling is easy… the hike was challenging… and the last phase of the adventure was a beautiful, peaceful float trip down the river. Ahhh. Great stuff.
-Natalie Sentz
Learn more and book your Triple Adventure for your Skagway port date!
---
Port: Ketchikan
Tour Length: 3 hours 45 minutes
This might be one of Ketchikan's most underrated tours, and it's one of my favorite Alaska excursions to impress the whole family. Your journey begins with a scenic boat tour on the remote waters of Clover Pass, where you'll have the chance to see bald eagles, harbor seals, and even whales as you make your way to the historic Silverking Lodge. Then, enjoy an enchanting walk through the forest as you gaze upon moss-covered 1,000-year-old Cedar Trees. Finally, feast on an absolutely delicious and fresh seafood boil before making your way back to the boat to return to town. It's an Alaskan triple-adventure and an excellent way to get away from the crowds and experience Ketchikan's raw beauty.
For another scenic Ketchikan excursion that includes a freshly caught crab meal, check out the Exclusive Flightseeing & Crab Feast!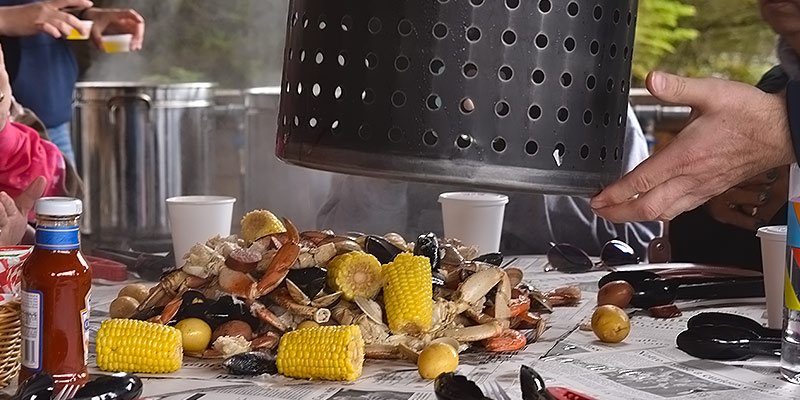 This delicious Alaskan seafood boil includes Dungeness crab, shrimp, mussels, clams, sausage, corn, garlic, pearl onions, and french bread.
What guests are saying:
This was an awesome tour. You get to see a lot of bald eagles and they throw food to let you see them catch food in action. The rainforest tour is educational and just a short walk. Seafood feast was delicious!
-Ruth Sevidal
Learn more and book your Alaska Lodge Adventure & Seafeast for your Ketchikan port date!
---
Port: Ketchikan
Tour Length: 1 hour 15 minutes
All aboard the hovercraft! This unique vessel is a terrific and fun way to explore the waters around Ketchikan. It's eco-friendly and great for wildlife viewing since there is no engine in the water to disturb nearby marine life. The knowledgeable guides provide a wealth of information as you make your way onto a secluded island where you can get out and explore the sandy beach and lush forest. The whole family will enjoy their time on this new and already popular Alaska excursion!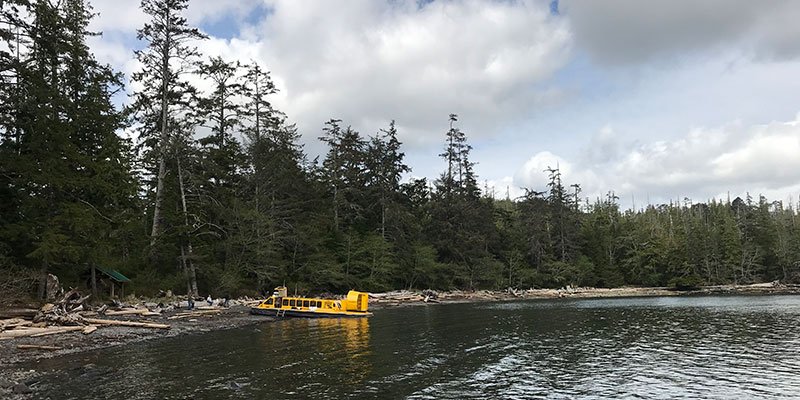 Learn about the unique 20-inch "air-cushion" that makes this tour eco-friendly and experience it as it coasts from the water to the beach!
What guests are saying:
This was the highlight of our Alaska trip. The Hovercraft is a lot of fun to begin with but add to that the wildlife they got us up close to see that it was truly an unique experience. Its a MUST for Ketchikan.
-Corey R.
Learn more and reserve your spot on the Hovercraft Eco-Adventure & Wildlife Viewing Tour for your Ketchikan port date!
---
Port: Ketchikan
Tour Length: 1½ hours
Get the ultimate Ketchikan flightseeing experience on this helicopter excursion! This tour combines the Top of the World with another scenic flight path to bring you gorgeous views of the Tongass National Rainforest, Mahoney Falls, Canadian Rockies, and more! You'll enjoy a 30-minute narrated flight as you watch for mountain goats, marine life, and more. My favorite part is the landing on the 1,800-ft mountain top of Annette Island, where you can get out and take in stunning 360-degree views! With so much to see in Ketchikan, you won't be disappointed with this incredible helicopter tour! P.S. there are no glacier tours out of Ketchikan, so keep that in mind when planning your itinerary!
If you're more interested in seeing the glacially-carved Misty Fjords, check out the Misty Fjords Flightseeing tour!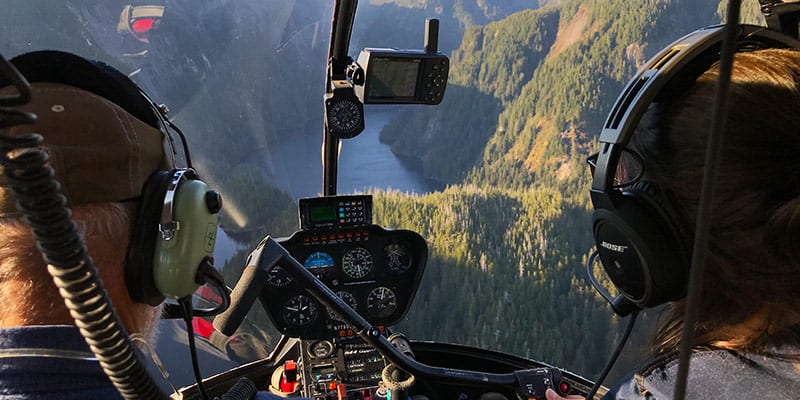 Each helicopter holds a maximum of 3 guests, but multiple helicopters are taken out for groups of 4 or more!
What guests are saying:
This was, hands-down, our favorite day and activity in Alaska. Shelly picked us up from the cruise port, gave us the inside scoop on all-things-Ketchikan, and treated us like family. Our helicopter experience was phenomenal thanks to pilot Carrie's expert flying skills and narration. Everyone in our 12-person party left with huge grins… This is an AWESOME activity. The flight was amazing, the scenery was stunning, and the folks running the show absolutely make it!
-Amber Carbine-March
Learn more and reserve your spot on the Ketchikan Combo Helicopter Tour for your Ketchikan port date!
---
I hope this list helps you narrow down the Inside Passage excursions you want to experience! Browse our excursion guides and visit our travel tips for well-rounded itineraries that include glacier tours, wildlife viewing, and scenic explorations. Or talk with one of our tour specialists for more planning assistance!
Which Alaska excursions are you most excited about? Let us know in the comments below!
Browse all: Skagway Alaska Excursions
Juneau Alaska Excursions
Ketchikan Alaska Excursions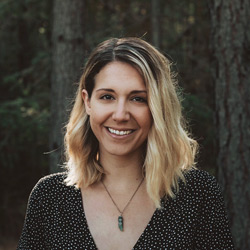 Cara L
Alaska Travel Specialist
Cara, our resident Marketing Coordinator, shares her passion for Alaska through our blogs and social media. She travels the Inside Passage each summer to explore new tours and hidden gems.