Which Alaska Zipline Tour is Right for Me?
October 12, 2020 / updated August 28, 2020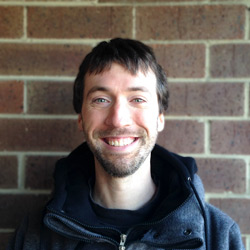 Ziplines are popping up all over the place and Alaska is no exception. People everywhere are finding ziplining to be an exciting and active way experience the outdoors with friends and family.
I've been an Alaska zipline guide for three summers, and in this post I'll share some insight into the various options to help everyone choose the zipline best suited for them. I'll also shed light on some common questions and hopefully ease any nerves you may have!
But with four choices, which one is best for you? Whether you end up in Juneau, just outside Ketchikan, or on a Skagway zip line, use this guide to decide which Alaska zipline is right for you!
---
Why Zipline in Alaska?
With ziplines in nearly every cruise ship port around the world, why do this in Alaska?
The breathtaking scenery of Alaska is no secret (I'm willing to bet it's one of your reasons for visiting) and ziplines in Alaska are a fantastic way to experience this, not just while in the trees. All of the zipline courses are outside of their respective towns and the ride to them becomes a sightseeing tour in and of itself.
Being outside of town away from the crowds also affords wildlife-viewing opportunities. Bald Eagle sightings are common, as are seals and otters along the coastal roads heading to either our Ketchikan or Skagway zip line. And while bear sightings aren't an everyday event, Alaska is bear country and they have been spotted at every zipline course.
Ziplining is a fun activity for everyone in a family to enjoy together. Finding an activity that everyone in the family will cherish can be a challenging part of planning any vacation. Kids can get restless on long bus tours, and three hours of kayaking and hiking might be a little too much activity for the grandparents. Consider a zipline tour! Read on to see which one is right for you.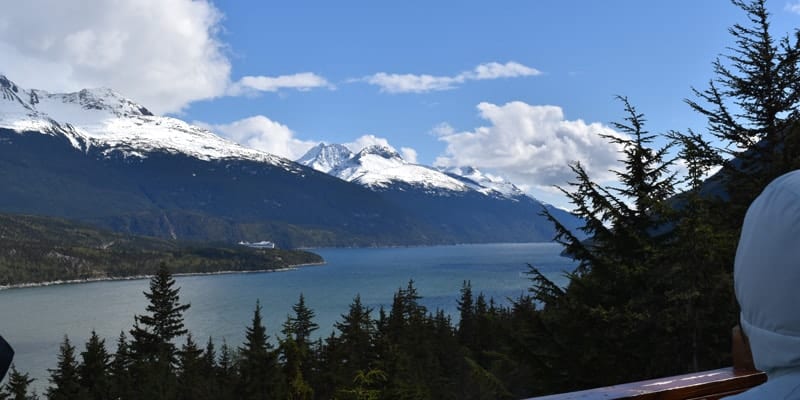 This panoramic view of the Lynn Canal is just one of the many spectacular views you will have the opportunity to experience when you take your Alaska zipline tour! (This photo is from Grizzly Falls, our Skagway zip line course).
---
What is your experience level?
While beginners are fully capable of completing any of the courses, some are better suited to different experience levels than others. For first-timers we recommend the Alaska Zipline Tour in Juneau. This course is not quite as fast or high off the ground. Moreover, the pacing is a little slower, which most beginners find comforting.
All of these Alaska zipline courses begin with an introduction zip. This line is much shorter, slower, and not nearly as high off the ground as the rest of the course. This is meant to ease you into the activity to make you more comfortable with the gear and the process.
Zipline guides help first-timers through the course every day, so don't feel intimidated if you're new to this! They are all very professional, as well as familiar with helping people feel comfortable in the gear and overcoming any pre-zip jitters. You'll very likely not be the only first-timer in the group!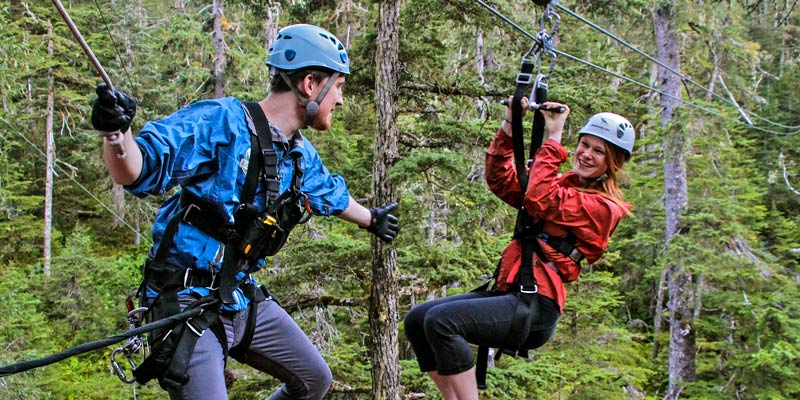 Your guides are here to help! Don't fret if this is your first time on a zip line, as your guides know how to make the experience both safe and exciting.
---
How Adventurous Are You?
We're assuming you're looking at ziplines for one of two reasons: you're looking for a thrill, or your travel companions are looking for a thrill and you're putting on your bravest face for them.
If you or the majority of your group are thrill seekers, check out Rainforest Canopy & Zipline Expedition in Ketchikan or theGrizzly Falls Zipline Expedition in Skagway. These courses were built for excitement. Our Skagway zip line, Grizzly Falls, boasts some of the fastest lines, while Rainforest Canopy has the highest.
In contrast, if you're doing this as a way to face a fear of heights and stepping off that platform takes every fiber of courage in your body, you might be able to guess that we recommend the Alaska Zipline in Juneau.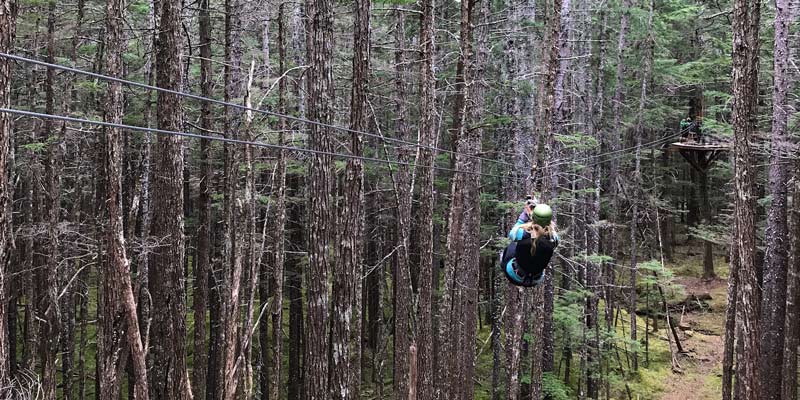 Insider tip: take a look at our Skagway zip line if you are looking for the opportunity to play around a little with your zip (even front flips)!
---
How Active Are You?
The amount of walking, hiking, climbing, and stepping involved is a common question for any tour. Here's a breakdown of the physical requirements by movement and which courses involve the least and most of them:
Walking: None of these ziplines involve a lengthy walk or hike. This being said, you will be standing for up to an hour and a half while on the course. All zipline tours include at least one suspension bridge that is a little wobbly, but there are hand-holds on the sides available for balance. While the difference in walking distance is minimal, the tour with the most walking is Rainforest Canopy in Ketchikan.
Stairs and Hills: Alaska Zipline in Juneau and Rainforest Canopy Zipline in Ketchikan have a stair climb equivalent to walking up about one-and-a-half floors in a house or building. Our Skagway zip line, Grizzly Falls, has a very short but moderately steep hill up to the start of the course. This climb height is very similar to a flight of stairs.
Stepping Up Down: All of these courses have stools at the start and end of each zipline that you will be stepping up onto and down from as you get clipped onto and off of the cables. The least amount of stepping up and down is at Rainforest Canopy, while Grizzly Falls has three steps up and down on every zipline.
Arm Range of Motion: Due to the self-braking involved at Rainforest Canopy, you will need to be able to reach overhead with at least one arm. This is not a requirement at Grizzly Falls in Skagway or Alaska Zipline in Juneau because the guides handle the braking for you.
Please don't worry about "holding up the group". Where there's a will, there's a way! Your guides are very patient and will do everything they can to help you complete the course. Additionally, I've found guests to be very supportive and encouraging of each other!
During my years working at our Skagway zip line, we've taken blind guests, amputees, guests with cerebral palsy, and even a 92-year-old woman who reminded us all that "you're only as old as you feel"! If you have a question or concern about your condition and ability to participate, please ask. You might be surprised at how accommodating the guides will be. I personally deeply enjoy assisting guests with disabilities through the zipline course and find it inspiring to see them rise to the challenge!
Bottom line: All courses have a similar level of physical activity and the guides are very willing to accommodate nearly every ability level.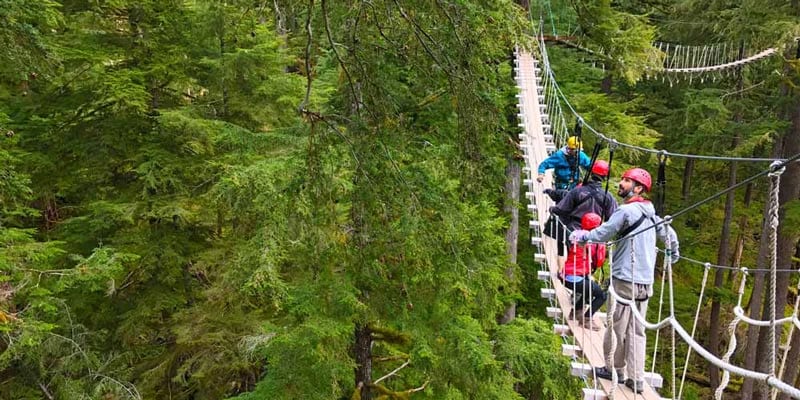 When you aren't soaring through the skies, take a moment to soak up the incredible Alaska views all around you!
---
Do I have to brake for myself?"
This is one of the most common questions we get for any zipline.
Short answer:
Yes, you will be braking for yourself at: Rainforest Canopy & Zipline Expedition in Ketchikan
No, the guides handle all the braking for you at: Alaska Zipline Adventure in Juneau Grizzly Falls Zipline Expedition in Skagway
Long Answer:
Braking for yourself isn't as scary as it might seem at first. With you at all times on each of these tours will be two guides whose primary responsibility is to keep the entire activity as safe as possible. This includes preventing you from hitting a tree if you approach a little too fast.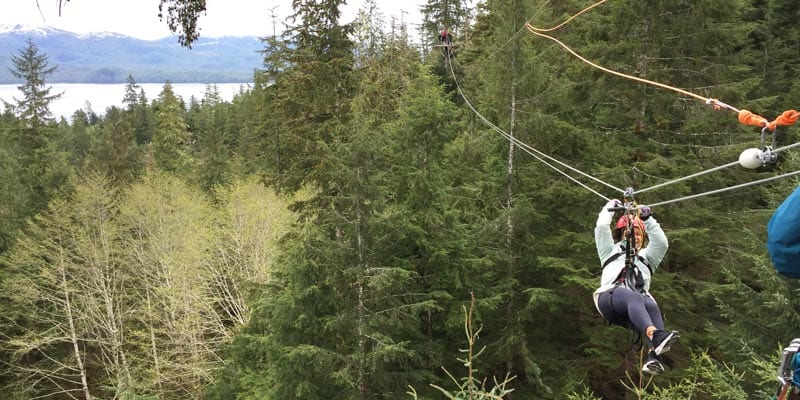 Worried about braking? We offer both self-braking and guide operated zips, so you can find the right tour for you.
---
What if I have to go to the bathroom…?
This often unspoken concern does arise from time to time. You would be correct in assuming that a private porcelain throne is unavailable in the trees. We recommend using the restroom prior to meeting your guides at the pick-up location. Each of these tours has restrooms on site for use prior to getting geared up, and your guides will let you know of the last opportunity to use a restroom before heading into the trees.
---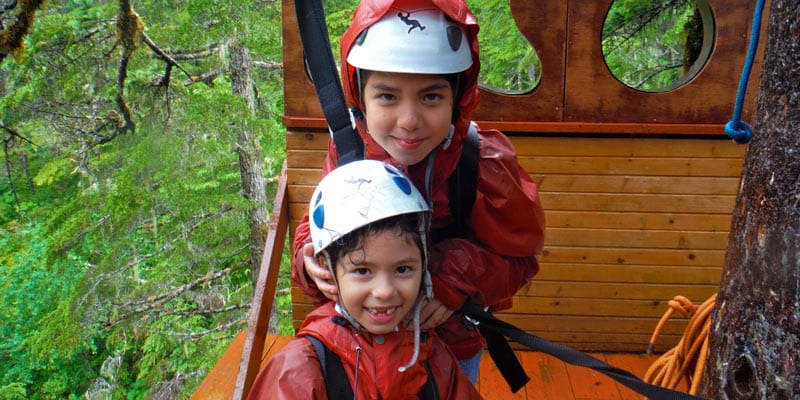 Bringing the kiddos on your Alaskan cruise? Not a problem! We have zipline options for everyone, including your little ones! Just double-check with us about age limits before finalizing your booking.
---
To Recap…
You have much to be excited about on your upcoming trip to Alaska! Use an Alaska zipline tour as a way to get outside the town and see some of the beautiful scenery and wildlife. While first-timers are more than welcome on every Ketchikan, Juneau, and Skagway zip line, if you're nervous or looking for something a little easier to start with, we recommend the Alaska Zipline Tour in Juneau.
If you're looking for an exciting ride, you won't be disappointed at our Skagway zip line, Grizzly Falls, or at the Rainforest Canopy Zipline Tour in Ketchikan.
Safe travels and we'll see you in the trees!
| Trip | Rock Climbing, Rappelling, Ziplining | Rainforest Canopy Zipline Expedition | Alaska Zipline Tour | Grizzly Falls Zipline Expedition |
| --- | --- | --- | --- | --- |
| Port Town | Skagway | Ketchikan | Juneau | Skagway |
| Total Time | 4 ½ hours | 3 ¾ hours | 3 ¾ hours | 4 hours |
| Height, Weight, Age Requirement | 50-300lbs, 6 years of age | 90-250lbs, 5' 0" | 70-250lbs, 8 years of age | 50-265lbs, 6 years of age |
| Best Suited For | Beginners, groups with mixed experience and ability level | Thrill seekers | Beginners | Thrill seekers |
| Activity Level 1-5: (1- easy, 5- challenging) | 4 | 3 | 2 | 3 |
| Braking | Guide Operated | Self-Braking | Guide Operated | Guide Operated |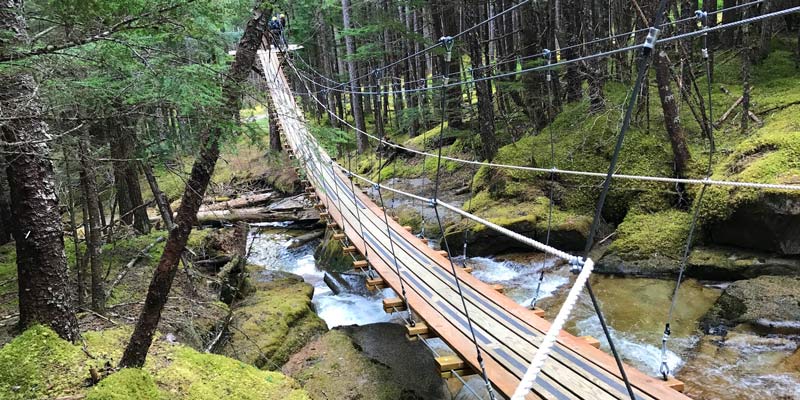 Each Alaska Zipline Course also offers several suspension bridges, so you can explore the tree tops with more than just air beneath your feet!
---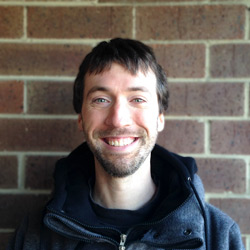 Curt left the Florida beaches for the Alaskan Mountains in 2014 and has never looked back. He hasn't forgotten the sense of freedom and wanderlust of that first trip and revels in sharing that with every visitor.